Interested in going wreck diving in the Florida Keys? The Florida Keys Shipwreck Trail, with locations scattered throughout the waters starting near Key Largo and stretching all the way down to Key West, is a diver's paradise with approximately 1000 shipwrecks in and around the keys.
A quick look at a Florida Keys wrecks map will provide you with endless dive sites to explore, but these five wreck sites listed below are the best of the best, and what we've dubbed 'can't miss' locations. Best of all, you can find all five of these and more right in the KnowWake chart (also be sure to check out our feature on How to Use KnowWake's Virtual Dive Flag).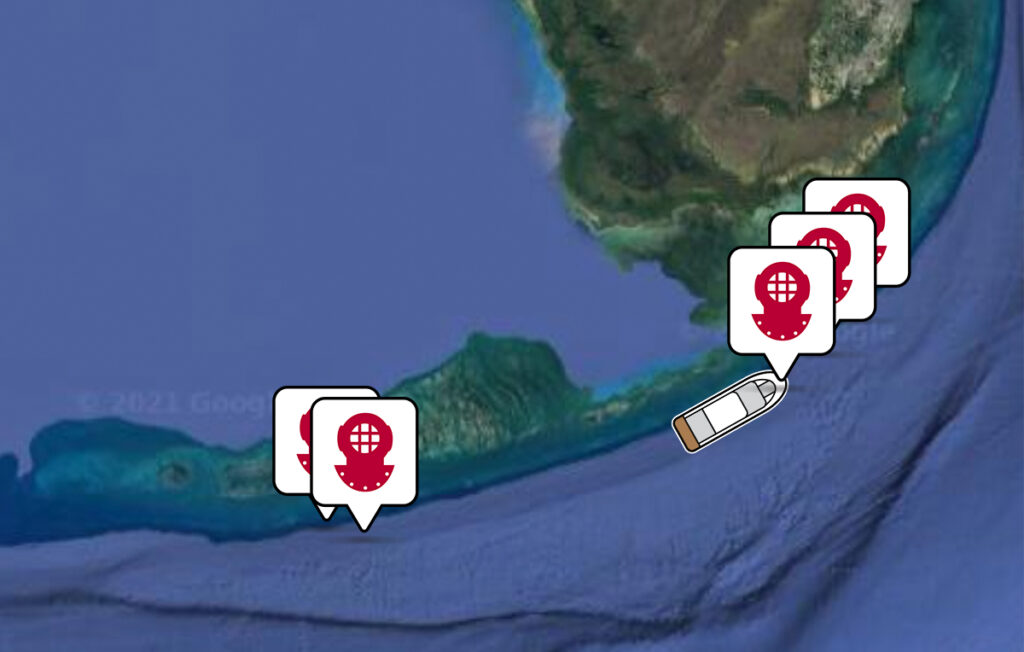 1. USS Spiegel Grove
Location: 6 miles off the shore of Key Largo
Length: 500ft.
Depth: 60ft (minimum); 100ft or more (maximum)
The Spiegel Grove wreck is probably the most infamous dive site located within the Florida Keys Shipwreck Trail. Most experienced divers say that it is almost impossible to experience this dive site in just one dive (or even two). Not all areas of this wreck are safely accessible—even with advanced certifications.
2. USCG Cutter Duane
Location: 1 mile south of Molasses Reef, off Key Largo
Length: 327ft.
Depth: 60ft. (minimum); 120ft. (maximum)
Listed on the National Register of Historic places, the Duane wreck was decommissioned in 1985 and donated to the Keys Association of Dive Operators. In 1987, she was towed out near Molasses Reef and sank as an artificial reef. Many local divers in the area report that on a clear day, Duane's intact hull can be seen from above.
3. Eagle
Location: 3 miles northeast of Alligator Reef Light, off of Islamorada
Length: 269ft.
Depth: 70ft (minimum); 110ft (maximum)
The Eagle wreck, also known by seven other names including the Raila Dan, was a freighter that first set sail from Holland. It was a fire in 1985 that would bring the Eagle down into the depths, where it would be cleaned, gutted of all wooden parts, and removed of all oil and fuel, to become an artificial reef. The wreck is now broken into two parts, following the effects of Hurricane George in 1998.
4. Cayman Salvage Master
Location: 7 miles southeast of Key West
Length: 187ft.
Depth: 59ft (minimum); 91ft. (maximum)
Originally sunk on her portside, Hurricane Katina later repositioned the Cayman Salvager to stand upright. Originally built in 1937 to serve as a cable and mining layer vessel, she's had a wide variety of roles throughout the years: a United US army Minelayer, Coast Guard Buoy Tender, Navy VIP ship, freighter, and drug runner. Advanced Open Water training is recommended for this dive.
5. USNS Gen. Hoyt S. Vandenberg
Location: 7 miles off the coast of Key West
Length: 522ft. (and approx. 10 stories high)
Depth: 55ft. (minimum); 165ft. (maximum)
A retired missile tracking ship, this dive site is known as the second largest artificial dive site in the world, and the biggest in the Florida Keys National Marine Sanctuary. Open Water Certifications are highly recommended for this dive, and for the best experience, it's a good idea to explore this wreck with a guide. According to experienced divers in the area, most of the ship's most interesting attributes are located near the top of the structure.
Explore all five of these world-class dive sites right in the KnowWake chart.
Download the app today to get started.