If you spend any amount of time with Great Loopers, then you're bound to hear the words "THE CROSSING." It is a reverent phrase that instills fear and anxiety in many. Bragging rights are a byproduct of making your way across 150+ nautical miles of open Gulf of Mexico water. And, naturally, there's always a good story of one's crossing.
What's the big deal about the crossing? If you know, you know! But what if you don't? Here's the scoop…
What is "The Crossing"?
For many boats traveling America's Great Loop, this is the furthest they will ever be from land. The rounded part of the Florida panhandle is very shallow. There are also very few resources for boaters. Without many fuel or overnight dockage options, most boaters opt to travel from the Carrabelle, FL area to Clearwater Beach.
There are some variations to the route, but most require a 150+ mile trip across the Gulf.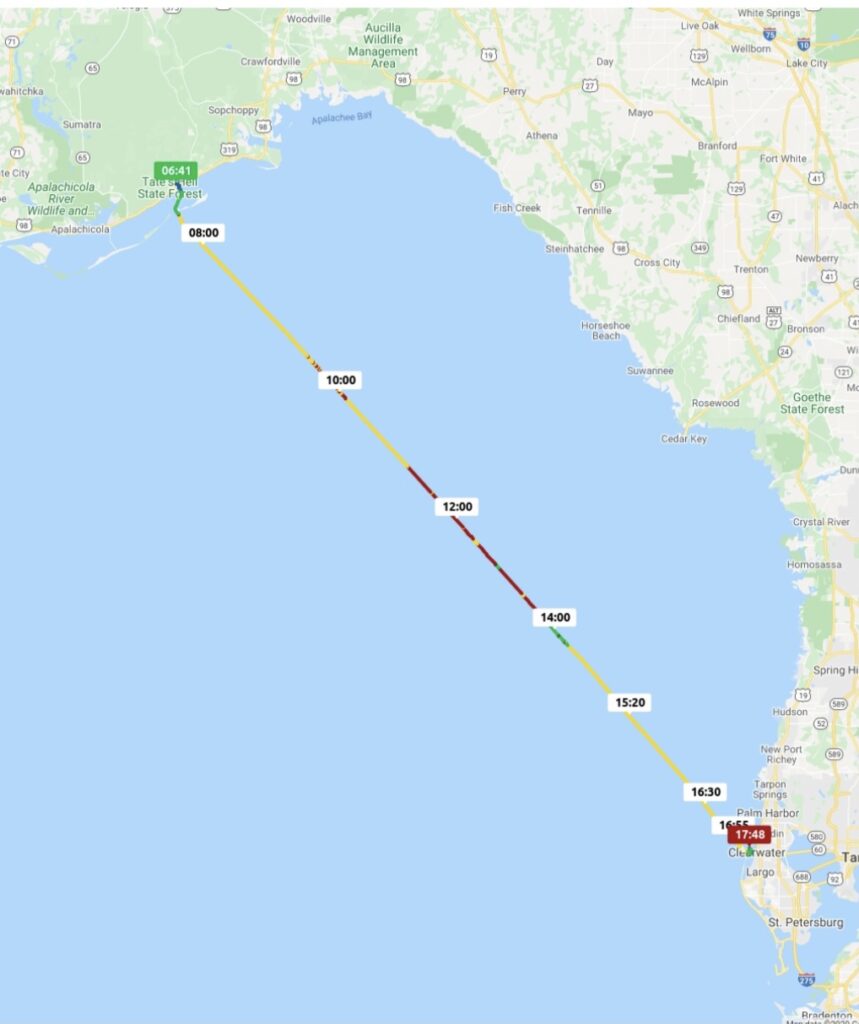 How Long Does it Take to Cross the Gulf of Mexico by Boat?
Many trawlers cruise around 8-10 knots. Similarly, lots of boats prefer to travel at peak fuel economy which is usually around the same speed. Doing the math, 150+ miles at that speed takes anywhere from 15-18 hours. This makes the timing of the crossing particularly important.
No boater wants to arrive to a marina in the middle of the night (not to mention, dodge crab pots in the dark!) Therefore, most Loopers choose to do their crossing overnight. They leave from Carrabelle, FL mid-afternoon, travel through the night, and arrive in Clearwater, FL in daylight.
As you might expect, there are a handful of Loopers with capable boats each year who complete the crossing during the day (our family falls into this crazy category). Day crossings come with their own set of challenges, including time and fuel management.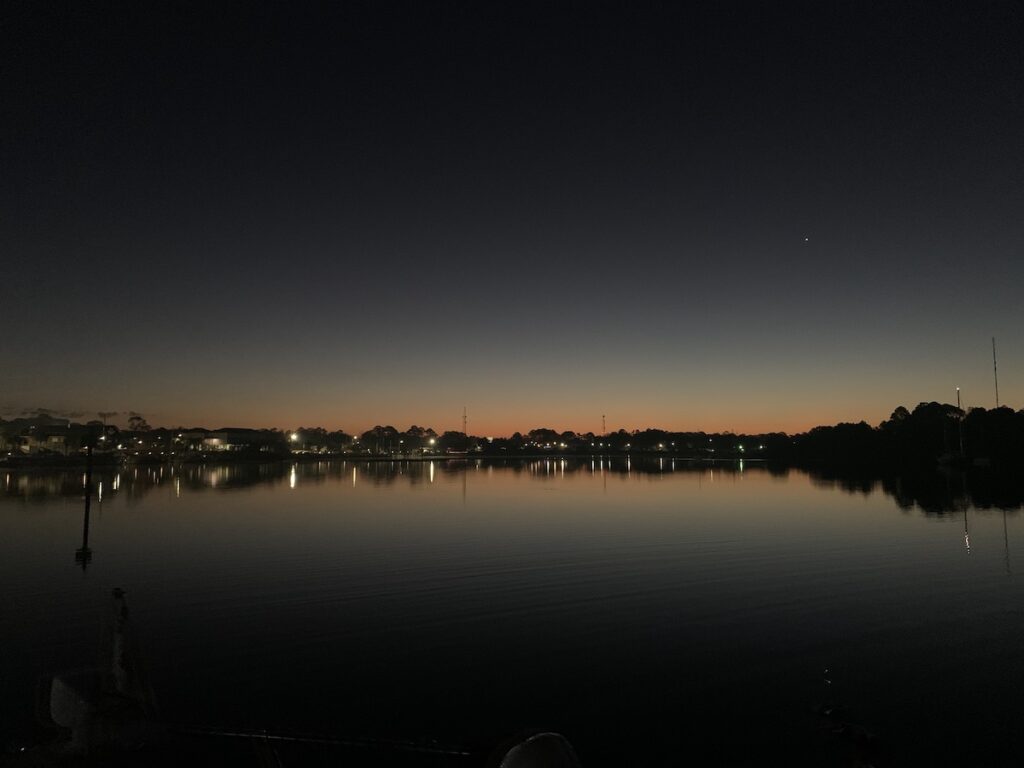 The Weather
As with most boating ventures, the crossing is largely dependent upon having a good weather window. Some people consult the weather gods, others get professional advice, but most tend to crowdsource information. It's not uncommon for 5-10 Loop boats to gather and wait together on a weather window.
When it comes to crossing weather, there seem to be 2 versions that always emerge. There are boaters who swear their crossing was flawless, with flat conditions 100% of the time. No other boaters have ever experienced such a perfect set of circumstances. And then there's everyone else who deals with larger than expected issues. The funniest is when two boaters, who do their crossing at the same time, have both versions of the weather story. I'm sure the truth lies somewhere in the middle of the two accounts.
Preparation & Advanced Planning
Aside from watching the weather, the most important thing to do before the crossing is to prepare properly. At a minimum, this includes filling your fuel tanks, performing any outstanding maintenance, and filing a float plan for your boat. The float plan allows for a worst-case-scenario, emergency notification.
KnowWake offers an easy option for submitting a float plan. Simply fill out the form on the app, and the contacts you select will automatically be notified. It is important to be as accurate as possible on your float plan about your timing and route.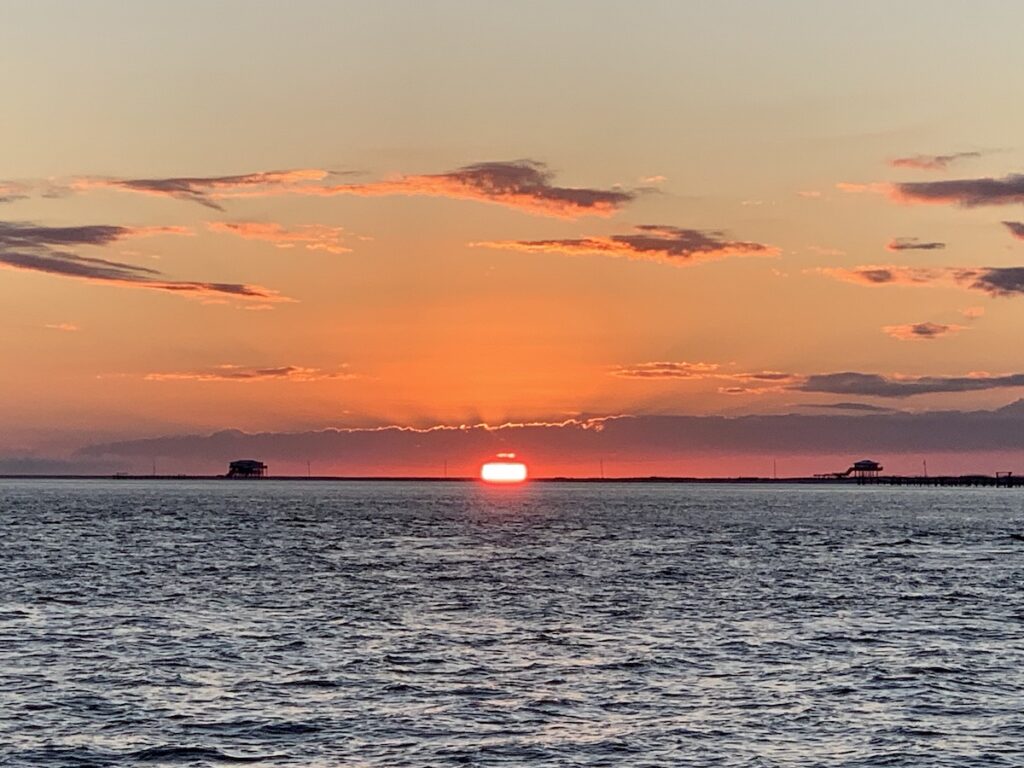 So, What's our Crossing Story?
As promised, there's always a story. Our crossing was nothing short of a disaster, but since we lived to tell about it, that only makes it a better story. Between our boat and our buddy boat, we dealt with a fog delay, fuel leak, a clogged fuel filter and some unexpected waves. We had prepared for perfect crossing weather, which is to say that we didn't prepare our boat at all. When suddenly faced with huge waves, our boat fell apart (literally!) I spent the next day cleaning up the mess from spilled cabinets and unsecured items.
The moral of our crossing story is to always prepare for the worst. Expect for the worst. And then be pleasantly surprised if it turns out better than you expect.
The next time you meet a Looper, be sure to ask them about their crossing!
About Mom with a Map 
Sarah and her family live on their boat, Light & Salty, full time. They work remote, Boatschool, and spend as much time as possible out on the water. They're members of the AGLCA and proudly fly the Gold Burgee. You can check out more of their adventures @momwithamap on Instagram or on their website MomWithAMap.com.