I have been a fan of Nicholas Sparks novels for as long as I can remember. I mean, who doesn't love a sappy love story set in a picturesque coastal town? Inspired by my desire to see the place that influenced so many fictional settings, we recently boated to New Bern, North Carolina.
New Bern is located about 20 miles off the Intercoastal Waterway on the Neuse River. Most of the town is visible from the water and walkable from the shoreline. Unfortunately, in 2018 Hurricane Florence caused extensive damage to many of the marinas. Years later, they are still rebuilding. KnowWake keeps updated information on the marinas in the area with dockage.
Much to my family's relief, New Bern is known for much more than simply being Nicholas Sparks' hometown. In fact, the town is rich in history, and enhanced with a gorgeous backdrop. This combination makes it the most charming, Southern city for boating. Let's look at a few reasons to add New Bern to your travel bucket list.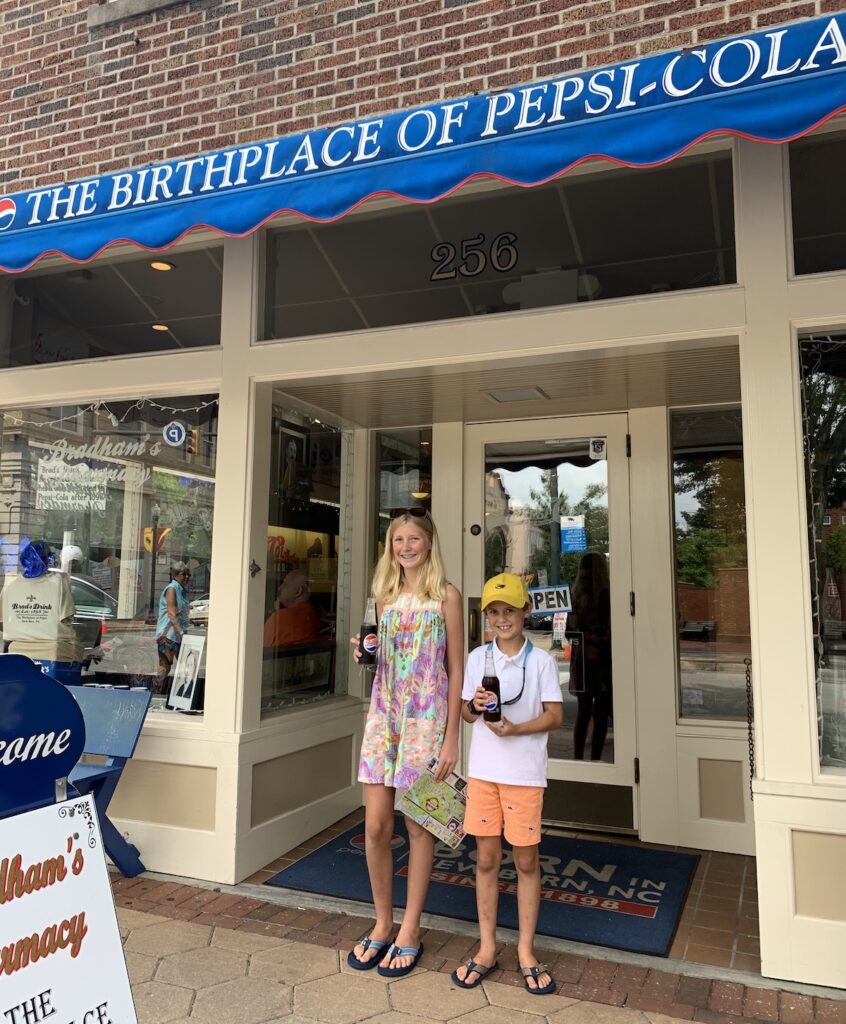 History of New Bern, NC
Did you know New Bern was the first capital of the State of North Carolina? Or that the famous beverage, Pepsi, was invented here? How about the fact that the area is home to one of the oldest fire departments in the United States?
Whether you're a history buff, or just love America, you'll find New Bern's past fascinating. There's no shortage of historical markers and museums dedicated to the preservation of the town and its history. Walking the streets can be an educational experience, and a photographer's dream.
Where to Eat
A boater could literally eat their way through New Bern—we did! (And you can find waterside restaurants accessible by dock right in the KnowWake app).
You'll want to start your day with a true southern breakfast at Baker's.
The Bern Bar & Grill is a great burger stop for lunch.
Be sure to make reservations for a nice dinner at Morgan's.
In between meals, you'll want to pop (pun intended for my northern friends!) into the original Pepsi factory for a quick tour and drink.
And don't forget to save room for a treat from Bear City Fudge and Ice Cream!
From cheesy grits, to southern style veggies and fresh caught fish, the food in New Bern will impress even the most critical foodie.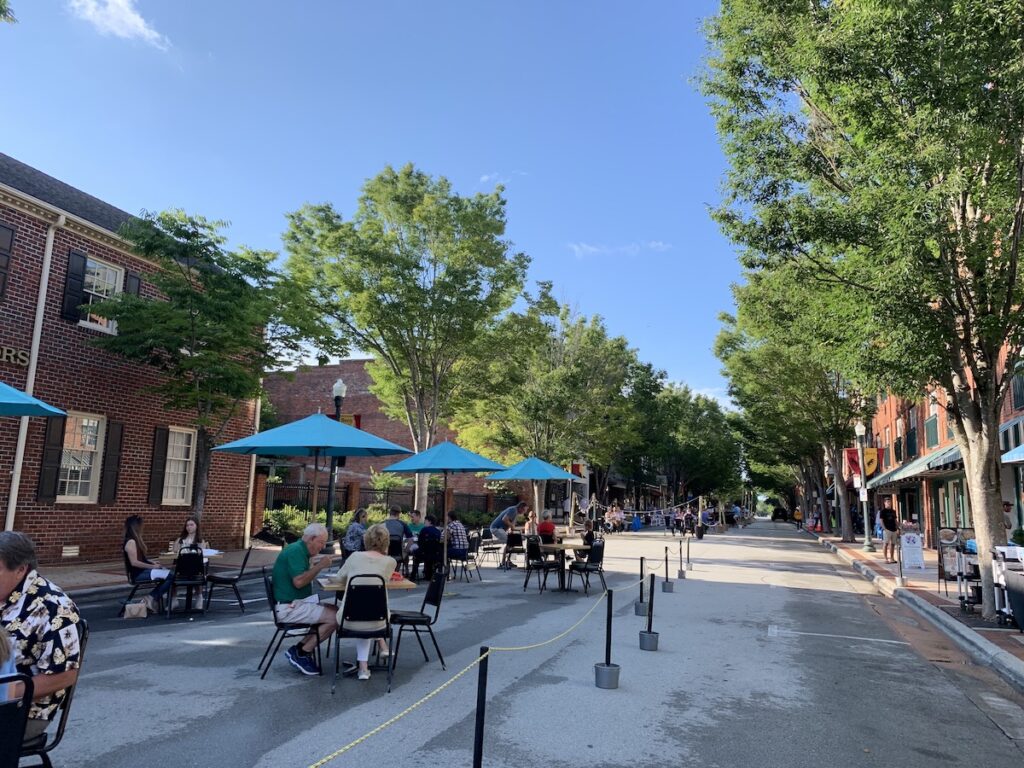 Where to Boat
Let's be honest, that's why we're all here, right? The water scene in New Bern is fantastic. There's plenty of room for recreational boaters to enjoy the waterway. In fact, at its mouth the Neuse River is the widest river in America- 6 miles wide! There are also many other boating destinations close by, such as Wilmington, Beaufort, Belhaven, and the Outer Banks.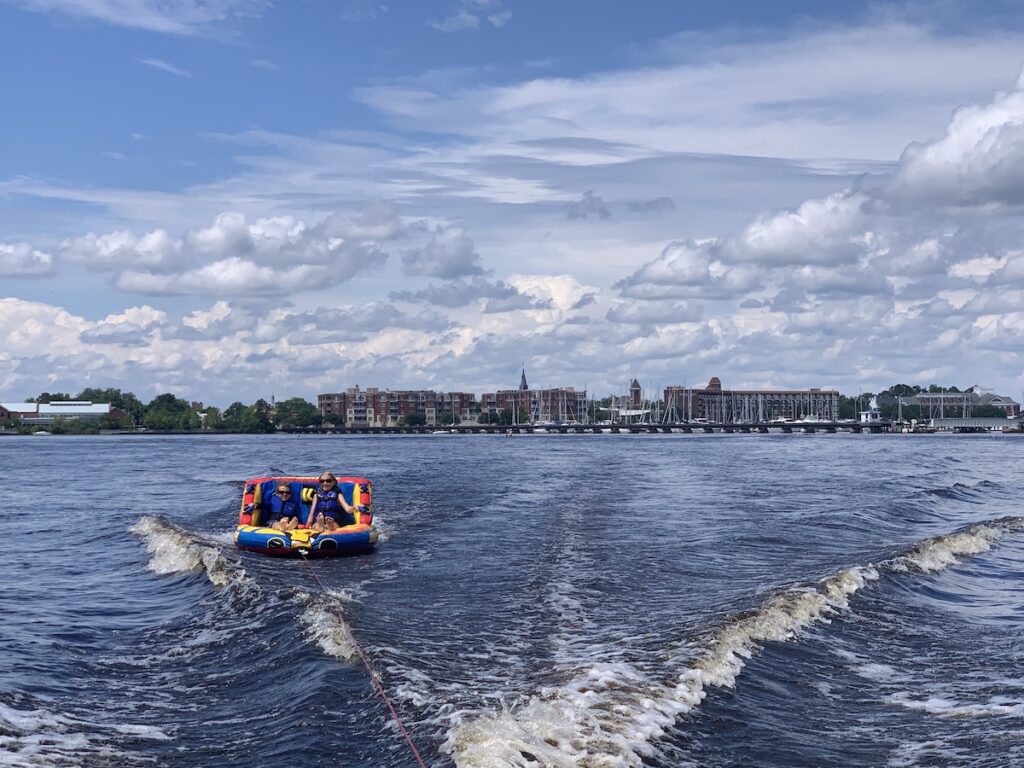 Ready to Explore New Bern, NC by Boat?
Beyond the tangible reasons to visit New Bern, there's also the vibe that can't be captured in words. The town is magical in a way that you just must experience to understand. As cheesy as it sounds, you'll truly be transported into a scene from any Nicholas Sparks book.
Which brings me to my final piece of New Bern trivia. The Notebook, set in New Bern and written by New Bern resident Nicholas Sparks, was the first novel in America to be on both the hardcover and paperback bestseller lists for over a year.
I dare anyone to visit New Bern and not fall in love with this charming little boat stop!
About Mom with a Map 
Sarah and her family live on their boat, Light & Salty, full time. They work remote, Boatschool, and spend as much time as possible out on the water. They're members of the AGLCA and proudly fly the Gold Burgee. You can check out more of their adventures @momwithamap on Instagram or on their website MomWithAMap.com.