Lake Tahoe, straddling California and Nevada, is one of the most popular all-season recreational and tourist destinations in the United States. While skiing and cold weather activities dominate the winter months, boating is king the rest of the year.
One of the best things about boating on Lake Tahoe is the multitude of boat launches, marinas, and other services available on both the California and Nevada sides of the lake. Continue reading to learn more about what makes Lake Tahoe one of the best boating destinations, then download the KnowWake app to stay current and connected while you are on the water.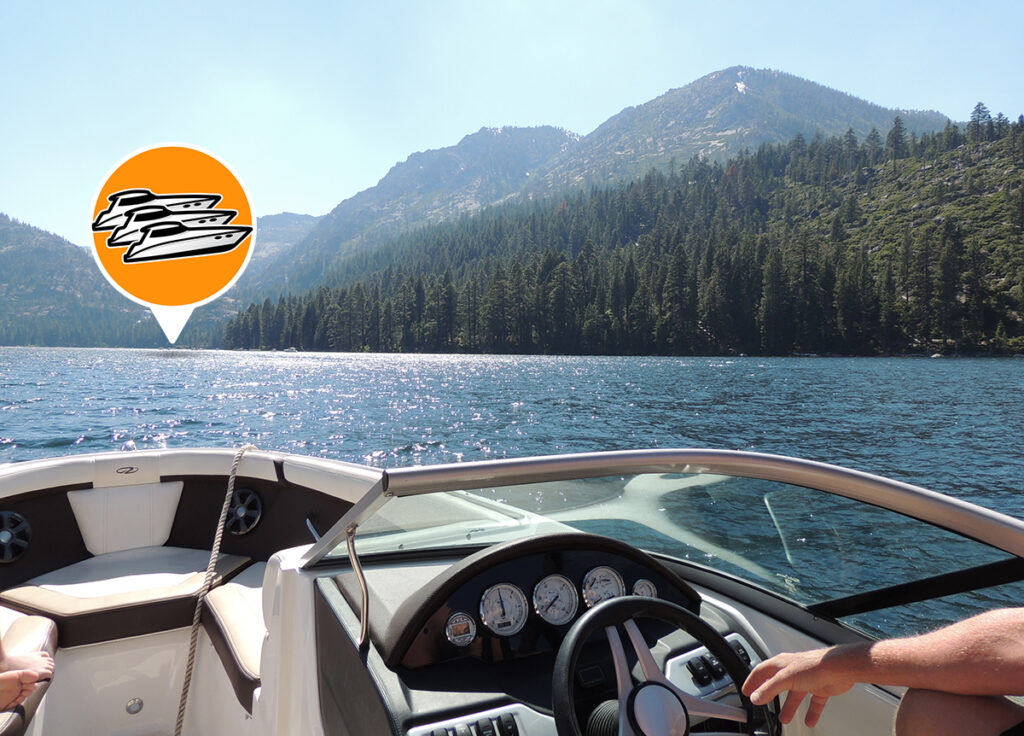 Lake Tahoe Boating Rules
With its beautiful ring of mountains, lush greenery everywhere you look, and, of course, sparkling calm blue waters, Lake Tahoe is a mecca for not just boating but almost every type of water activity you can dream of.
Yet when it comes to boating on Lake Tahoe, not just anyone can grab a boat and go. There are several rules to know before you can set sail. Every Lake Tahoe boating rule is in place to protect the natural beauty of the lake for generations to come.
First, every personal boat or other watercraft entering Lake Tahoe needs to be inspected for invasive species that may be hidden in or on your vessel.
There are plenty of roadside inspection stations on the main highways leading to the lake, both on the California and Nevada sides.
All boaters also need to purchase what is called the "Tahoe In and Out Pass," which not only allows inspected boats to enter the lake but includes unlimited inspections during a calendar year. These passes are sold at all inspection stations.
After your vessel has passed inspection and you are ready to hit the water, there are a few Lake Tahoe boating laws and regulations to remember:
There is a strict no wake zone for 600 feet from every shoreline around the entire lake.
Even if you do not see a no wake zone sign or a no wake zone buoy, you must remember and obey the zone until you are 600 feet away from shore.
Additionally, any area within 100 feet of a swimming/paddling area, and 200 feet of a structure, is a no wake zone on Lake Tahoe.
The third Lake Tahoe boating law pertains to captains and is different depending on which side of the lake you launch from.
In Nevada, all boat captains born in 1983 or later must pass a boater education course to be eligible to drive a vessel.
In California, all boaters 45 years of age or younger must pass an approved boater safety education examination and receive a California Boater Card.
Once you are aware of all of the Lake Tahoe boating rules, check out our pre-departure checklist to make sure you aren't forgetting anything else!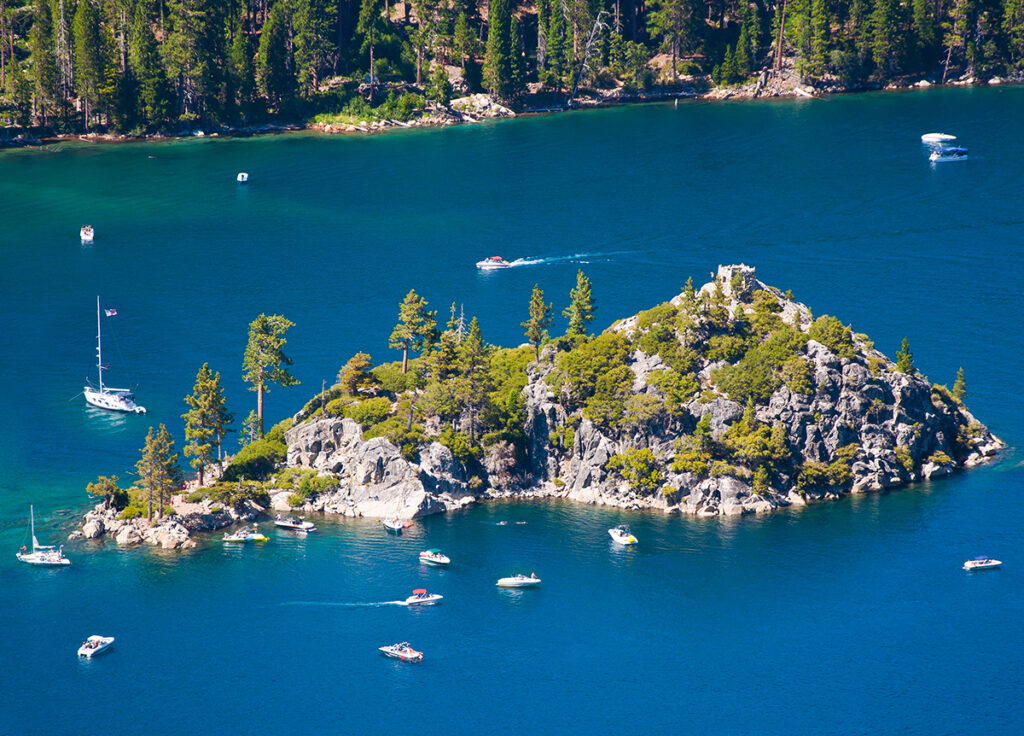 What is the Best Type of Boat for Lake Tahoe?
A great thing about boating on Lake Tahoe is that the calm and pristine waters are welcoming for all types of vessels. However, not all types of boats are permitted on the lake. Carbureted Two-stroke engines are not allowed in Lake Tahoe, and all nearby lakes, under any circumstances. To use a boat on Lake Tahoe, it must have a four-stroke engine or injected two-stroke engine.
If you are using a motorized boat, it is critical that you check the latest regulations in the state you plan to launch from. In 2021, motorized boats were prohibited from Lake Tahoe because of drought severe conditions.
Other than that, almost any type of watercraft can provide for an exciting and fun day of boating on Lake Tahoe. Pontoon boats, powerboats, sailboats, kayaks, canoes…you name it! Almost any type of boat can be found on the lake on any given day. Many agencies in both California and Nevada offer boat rentals for those who just want to be a captain for a day!
Be a Part of the KnowWake Community!
KnowWake is a marine navigation app unlike any other app in the market. Our boat navigation app is available for both Apple and Android devices. It offers boaters the opportunity to create and share float plans, navigation capabilities, and even use it as a boat sharing app or boat route planner, so you can see important information like the location of a no wake sign.
The Live Chart is always changing with the latest updates on dive spots, moorings, marinas and more. Download our free app today to learn more and join the fastest-growing marine community navigating the water together!