Are you in search of the clearest waters in Florida? You've come to the right place! Our friends at Lazy Locations have put together a list of the 10 best destinations all across the state of Florida with gin-clear beaches and waterways—and yes, you can find them all on our KnowWake Charts.
Let's dive in!
Clearest Water in Florida
1. The Florida Keys
The Florida Keys are the ultimate Florida boating destination for gin-clear water. Without it, the Keys wouldn't be the tourist destination it is. The amazing water clarity allows boaters to do so many things while creating that perfect "tropical paradise" that we all long for.
The most popular boating locations in The Florida Keys are the oceanside snorkeling and diving spots near Key Largo, Islamorada, Marathon, and Big Pine Key. Equally popular locations are The Islamorada Sandbar, Marvin Key near Key West, and the numerous islands and anchorages near Big Pine Key and the other Lower Keys.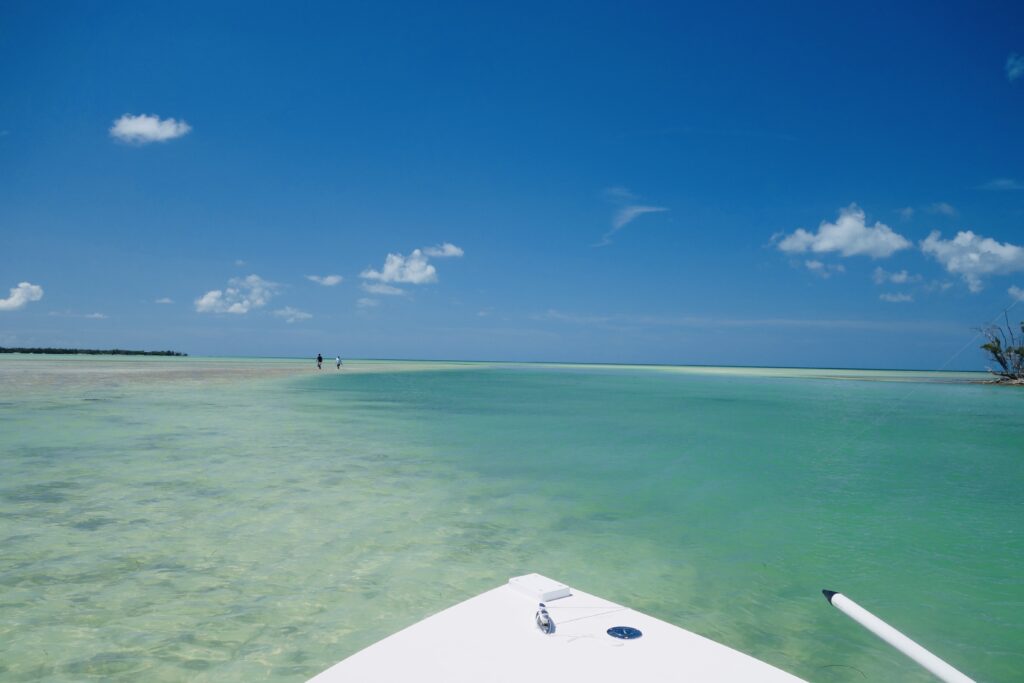 2. Jupiter
Jupiter is another one of Florida's amazing boating destinations with gin-clear water. Due to its proximity to the Gulf Stream, Jupiter has incredibly clear water during incoming tides. Combine that with world-class offshore fishing, fantastic restaurants, and three popular sandbars and it's easy to see why Jupiter ranks high on this list.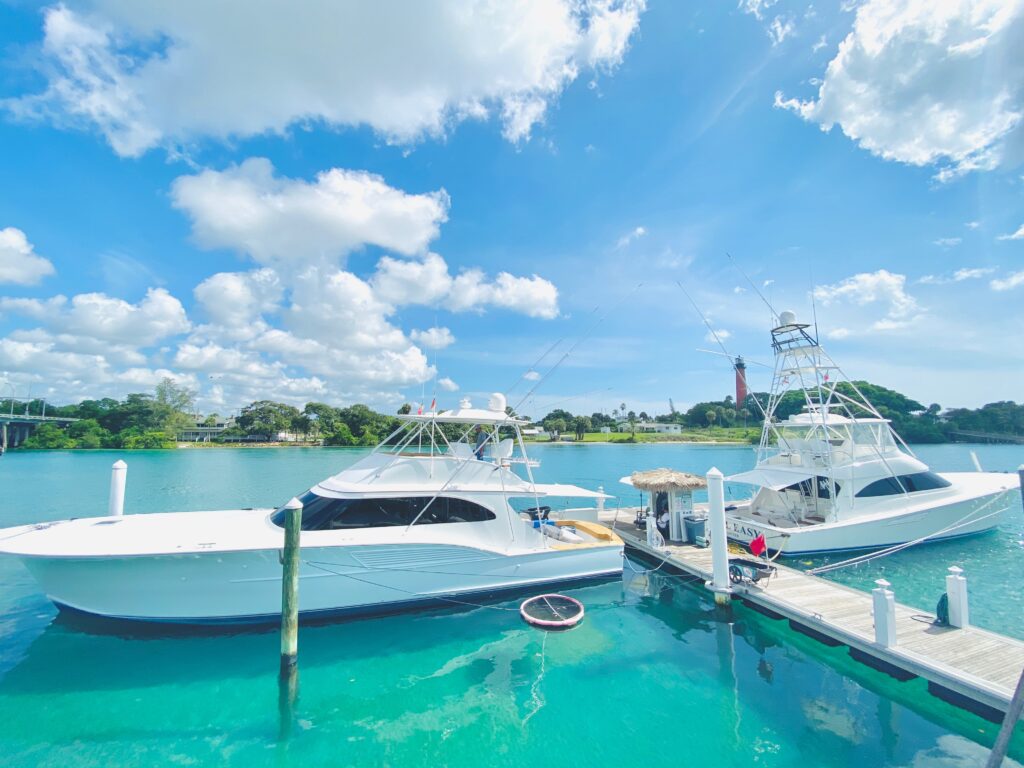 3. Destin
Destin lies in the heart of "The Emerald Coast" and it's no surprise why it's called that. The water in this part of Florida is incredible. Unlike many of the other locations on this list, it's only the offshore water that is clear along this stretch of coastline. Therefore, you'll need to take advantage of incoming tides to feel like you're in a tropical paradise. There's no better example of this than the world-famous "Crab Island" sandbar.
Located inside Destin Harbor, Crab Island is a huge sandbar that attracts boaters from all over the region. This sandbar is so big that it has numerous concession stands, a watersports park, and even a floating church chapel! The glue that keeps it all together is the gin-clear water.
4. Panama City Beach
Much like Destin's "Crab Island", Panama City Beach has "Shell Island". However, this isn't a sandbar. Rather, Shell Island is a 7-mile long, uninhabited barrier island that protects St. Andrew Bay. Shell Island is the perfect boating destination to enjoy the Florida gin-clear water and boaters frequently do just that.
5. Freshwater Springs
While Florida has over 600 freshwater springs, only a few of them can be accessed by boat. Two of them that should be high on your list are Silver Glen Run and The Rainbow River.
Silver Glen Run is the waterway that links Silver Glen Spring to Lake George. Boaters frequent this area, especially, during weekends throughout the Summer. The water at Silver Glen Run looks just like a swimming pool and has a refreshing year-round temperature of 72 degrees.
The Rainbow River originates at Rainbow Springs State Park and flows south to where it meets with the Withlacoochee River and eventually flows to the Gulf of Mexico. Boaters are allowed on The Rainbow River up to a certain point that's close to the spring head. The closer you travel upstream, the clearer it gets.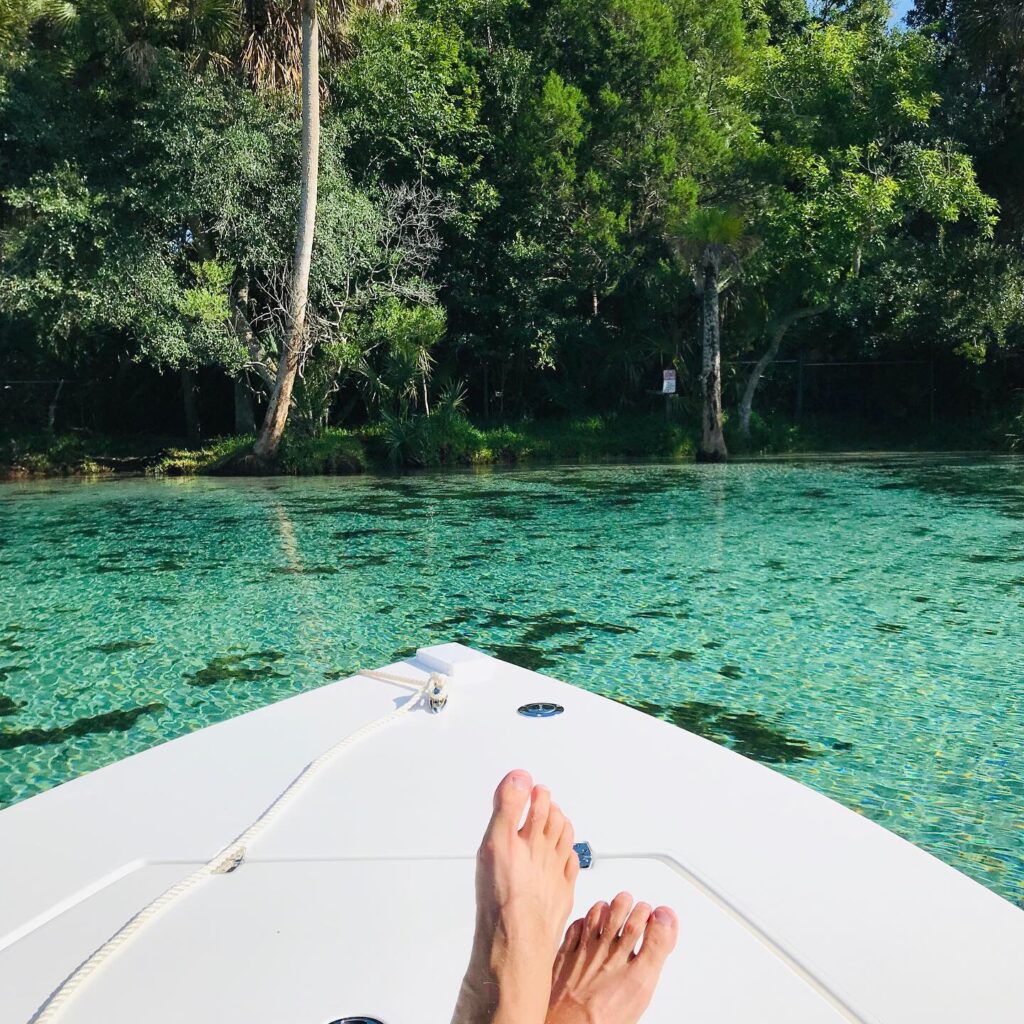 6. Miami
Miami is a beautiful boating location for gin-clear water but it's not as prevalent as you'd think. The best locations to enjoy this Florida gin-clear water are Haulover Sandbar and the numerous cuts and sandbars south of Key Biscayne.
7. Palm Beach
This stretch of East Coast coastline offers some of the clearest water in Florida and lying in the center of it is beautiful Palm Beach. Palm Beach is a boating paradise due to its offshore fishing, diving, and recreational boating locations. One of the most popular destinations is Peanut Island. Peanut Island is located just inside Palm Beach Inlet and during an incoming tide produces one of the most tropical boating locations in all of Florida. It's worth a visit!
8. Tampa
Tampa is another place where boaters can find Florida gin-clear water. Tampa has lots of boating locations but a couple of the best ones' for clear water are Egmont Key and Passage Key. Both of these islands are located at the mouth of Tampa Bay and are very popular boating locations. The beach along Egmont Key is fabulous and very scenic and the white sand bottom of Passage Key makes it one of the most tropical sandbars in all of Florida.
9. Sarasota
Sarasota is fast becoming one of Florida's best destinations. One of the reasons is because of its beautiful water. Boaters love this area because they can explore the Florida gin-clear water while visiting one of the many sandbars or beaches in this area. Locations like Midnight Pass, Jewfish Key, and North Lido Beach top the list.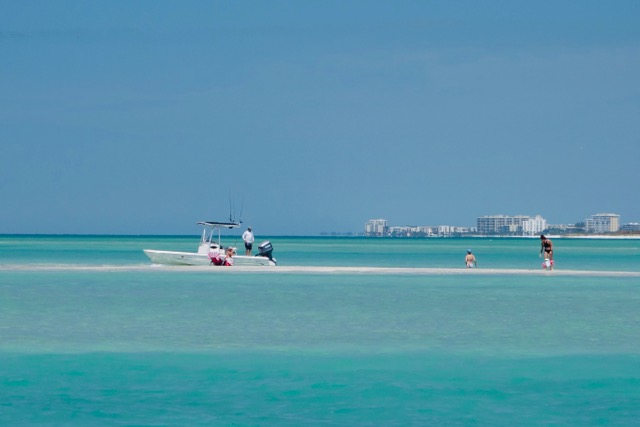 10. Boca Grande
As one of our favorite places in Florida, Boca Grande is located in the middle of boating paradise and at the northern end of Charlotte Harbor. This amazing boating location includes the incredible islands of Cayo Costa, Useppa, Cabbage Key and North Captiva, Little Gasparilla, and, of course, Boca Grande itself. The water here is stunning, especially, during the Spring.