Keewaydin Island is one of the best boating destinations in all of Florida. This special place is a magnet for boaters from Naples and Marco Island.
Keewaydin Island
Secluded Florida islands are like "gold." They're beautiful and valuable yet, limited in their availability. Keewaydin is one of these places. The island is only accessible by boat and is part of the Rookery Bay National Estuarine Research Reserve. Today, as you cruise past the island you'll see some beautiful homes on it. That's because the island is about 85 percent public and 15 percent private. Approximately 50 private lots and 15 private homes are embedded within this tropical oasis.
Best of Boat Worlds: Beach & Bay
One of the most unique aspects of this "Lazy Location" is the ability to easily walk between the bayside waters and the beautiful beach. It also allows you to find some additional seclusion and spread out if you want more space.
Things to Do (Beach, Party, Swim, Float, Ice Cream)
By far, the most popular thing to do at Keewaydin Island is relaxing in the bayside water and float with the current. It's common to watch bathers float with the current (direction dependent on the tide), get out, and do it again.
The second most popular thing to do is to relax on the spectacular beach. Keewaydin Beach is one of those rare beaches in Florida where you can escape the crowds and feel like you're in another world.
Finally, when you've exhausted all your options and need a break, you can belly up to "In the Pink" and treat yourself to some tasty ice cream served by boat.
Beautiful Scenery
The boat ride from Naples to Keewaydin is beautiful and unspoiled. The initial part of the ride takes you past the mega-mansions of South Naples.
After that, it quickly turns into an amazing estuary of mangrove islands and "Old Florida" ambiance. The trip isn't long in miles but it takes a little more time due to a couple of "Slow Speed" zones.
Make sure to refer to your KnowWake app to stay informed.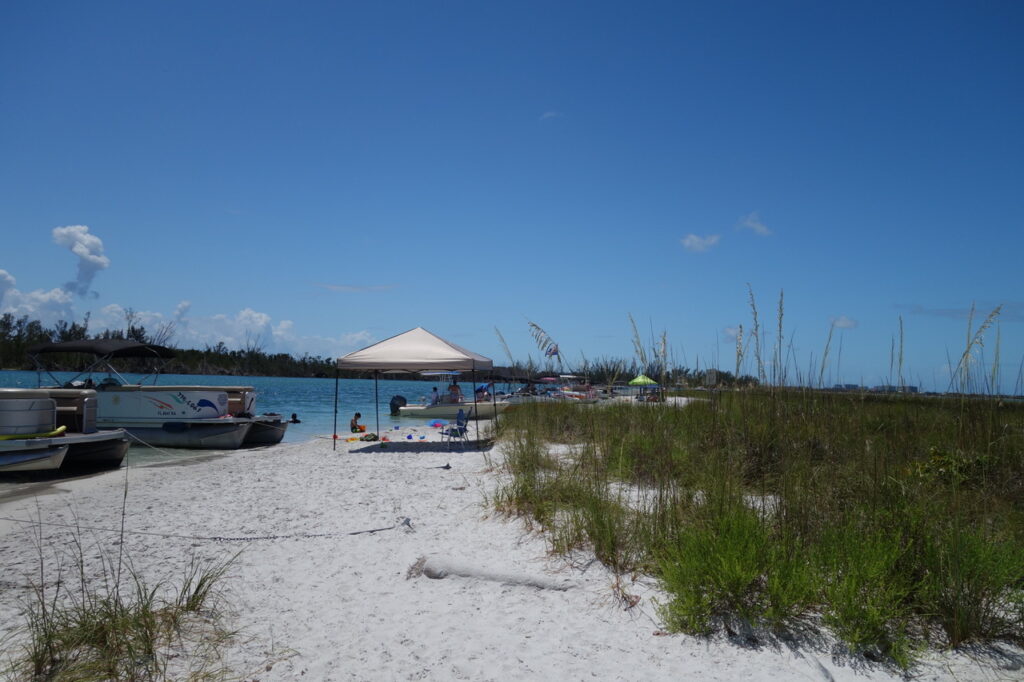 Navigation
Navigating to Keewaydin is easiest heading south from Naples. The journey from Marco isn't difficult but it can be rough in a strong wind from the NW, W, or SW. Also, there is considerable shoaling around the tip of the island so be aware. It's easy to navigate when the water's clear but more difficult when it's not.
Closest Boat Ramp
The closest boat ramp is Bayview Park. This convenient boat ramp is located in South Naples, just before the beginning of Rookery Bay. The facilities are great and the ramp is in great condition. It's about a 30-minute boat ride from the ramp to the sandbar portion of Keewaydin Island.
Closest Waterfront Hotels
Because of its location, Keewaydin can easily be accessed from both Marco Island and Naples. The two best hotels with boat slips in the area are The Boat House Hotel in Marco and Naples Bay Resort & Marina.
Both offer nice amenities and are centrally located in their respective communities for plenty of dining, shopping, and other activities after a day of boating.
Ready to explore more Florida boating destinations? Be sure to read Amazing Picnic Island. Don't forget to use your KnowWake app for point-to-point routing during your adventures!