They say everything's bigger in Texas—and that includes the party coves. If you're an avid boater who's familiar with party coves across the country, then you've undoubtedly heard of Devil's Cove on Lake Travis.
While Devil's Cove tends to steal the spotlight, you'll also want to explore a few other notorious Lake Travis party coves that we've dubbed 'can't miss' locations. And best of all, you can find them all on the KnowWake chart.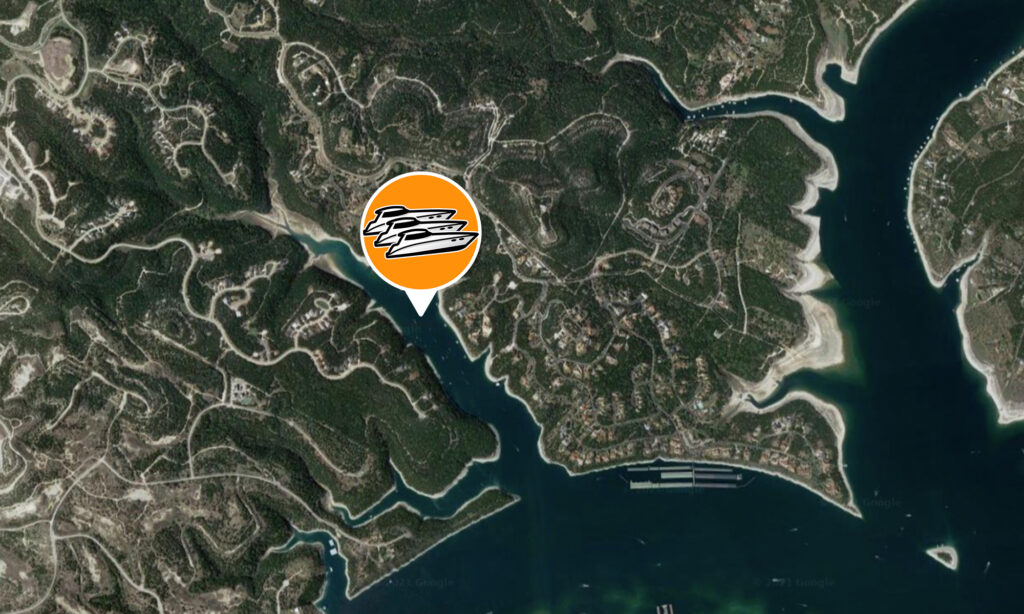 Top 5 Lake Travis Party Coves
1. Devil's Cove
Arguably the best party cove in America and the most well-known on Lake Travis, you can find Devil's Cove just west of Northshore Marina and east of Mossy Hollow. From spring to fall, this cove is home to the biggest parties on the water—with 200+ boats rafted up. As you can probably guess, some of the most popular (and most crowded) times in Devil's Cove fall during Memorial Day, Fourth of July, and Labor Day weekends.
Aside from being the most iconic location on Lake Travis to raft up with other boats, Devil's Cove is also a great area to swim. At its deepest point, you'll find up to 60 feet of water.
2. Hippie Hollow Park
Ready for some skinny dipping? Around the 1960s-1970s, the nickname "Hippie Hollow" was born for the area of the lake that was originally known as McGregor County Park—best known for being the ultimate, secluded nude swimming spot on the northwest shore of Lake Travis. The original "hippies" who frequented the park also nicknamed it's surrounding terrain as "Radio Rock," inspired by groups of friends who would all bring their radios and play different music.
Today, it's still the only clothing-optional public park in Texas, and you'll typically find plenty of boaters and swimmers lounging on the limestone steps. Although, you do have to be 18 years or older to join the crowd.
3. Starnes Island
Located on the Sandy Creek arm of Lake Travis, Starnes Island has had—and continues to have—many different nicknames: Monkey Island, and Rattlesnake or Snake Island, to name a few. Regardless of how you label it, it's infamous for being the go-to anchorage for houseboats and party barges visiting the area.
If diving is your thing, you'll also be happy to learn that Starnes Island is a must-see. According to LakeTravis.com, this location "offers a wall dive to depths beyond 100′ and a gradual sloping section with three boat hulls and a riding mower to explore…[and] don't miss the lady of the deep around 60′."
4. Rough Hollow
After being known as "the best party cove" on Lake Travis during the 80s and 90s, Rough Hollow was knocked off the top spot by its rival, Devil's Cove. Despite its fall from popularity, Rough Hollow continues to be a well-known yacht club, marina and resort-style community within the lake.
Highland Village is at the epicenter of Rough Hollow, where you'll find an adult swim-up bar and restaurant, plus the local amphitheater and plenty of other amenities for members of the community.
5. Cypress Creek
Not as much of a party cove as it is a popular attraction for both local and visiting lake-goers, Cypress Creek is home to Lake Travis Zipline Adventures, located on the north shore. Best known for having the longest and fastest zipline in Texas at over 2,800 feet, the Cypress Creek area is also praised for its scenic views of the lake and Texas Hill Country.
If you do happen to sign up for a zipline adventure, you'll also enjoy the perk of private beach access, where you can swim, picnic, or relax in a lakeside hammock.
Explore all five of these infamous party coves right in the KnowWake chart.
Download the app today to get started.