Both long-distance cruisers and weekend cruisers alike will agree that a reliable anchor alarm, also sometimes called an anchor watch or anchor drag alarm, is a critical piece of boat safety equipment. While some boats have anchor alarms built into their suite of marine electronics, many boaters rely on a manual anchor watch or opt for an anchor watch app.
Whether you're planning a long-distance adventure like the Great Loop, spending your weekends overnighting, or just camping out for the night in a quiet cove, the KnowWake app now has a built-in anchor alarm that is ready for action.
Before we dive into how to use the KnowWake anchor alarm, let's take a closer look at what exactly an anchor drag alarm or anchor watch is, and why you might consider using one.

What is an Anchor Watch and/or KnowWake's Anchor Alarm?
Originally, the idea of an anchor watch was born among sailors to stand watch overnight, keeping an eye on the vessel at anchor and standing ready to alert the crew of any potential dangers. The idea of an anchor watch has obviously evolved overtime, and to this day, is still put into practice on many larger ships and yachts—with the support of marine electronics, of course.
In its most basic form, an anchor drag alarm does just what its name describes: it emits a signal, or an alarm, when a boat drifts outside of a designated security zone around the boat. Today's anchor alarms rely on GPS technology, and allow users to create a perimeter (usually a circle) around the vessel. The key to setting up an effective perimeter for an anchor alarm is to allow just enough space for the normal movement and motion of the boat, so as to not signal a false alarm.
Keep in mind, modern anchor alarms track the boat, with a signal coming off the electronics and/or an attached antenna or satellite—and not the actual anchor itself.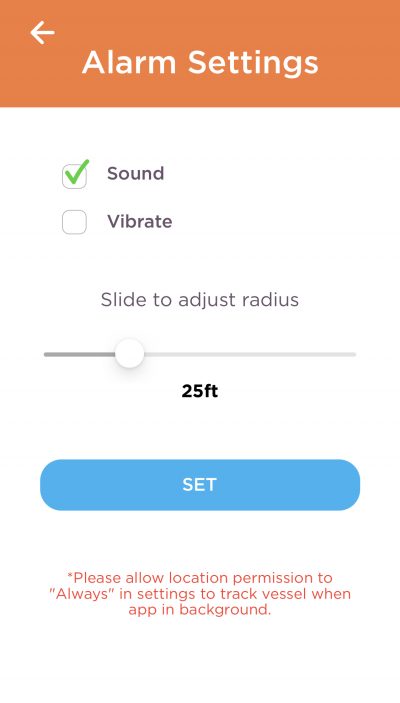 Using the KnowWake Anchor Alarm
As part of the 4.7 app release, KnowWake unveiled a suite of new safety and social features, designed to make your days on the water better than ever. Part of that release included the all-new anchor alarm tool, which creates a security zone around the vessel, signaling both new and experienced captains of any movement or drift away from its current location.
Follow these simple steps to utilize the anchor alarm in your KnowWake app:
First, make sure you have the most recent version of the KnowWake app downloaded to your iPhone or Android.
Open the app, and click on the bottom left 'Wheel' icon to access the main menu panel.
Select 'Anchor Alarm.'
Upon clicking, a new display will open that allows you to set your Alarm Settings.
Select your alarm preferences, either Sound, Vibrate, or both.
Use the slider to adjust the size of your radius—anywhere between 1ft to 100ft.
Remember to set your location permission to "Always" in your app settings, in order to successfully track your vessel when the KnowWake app is in the background.
Ready to use the KnowWake Anchor Alarm tool?
Take the first step and download the app today to get started.